Where are we?
Getting to IVFDF 2005
The University of East Anglia lies about 2 to 3 miles to the west of the centre of Norwich, but is served by four bus routes, making getting here easy. To find us on other online maps, our postcode is NR4 7TJ
Parking will be available on campus, at £1 per day. If you are a large group and have organized a communal coach, please let us know so that we can make appropriate arrangements for coach parking.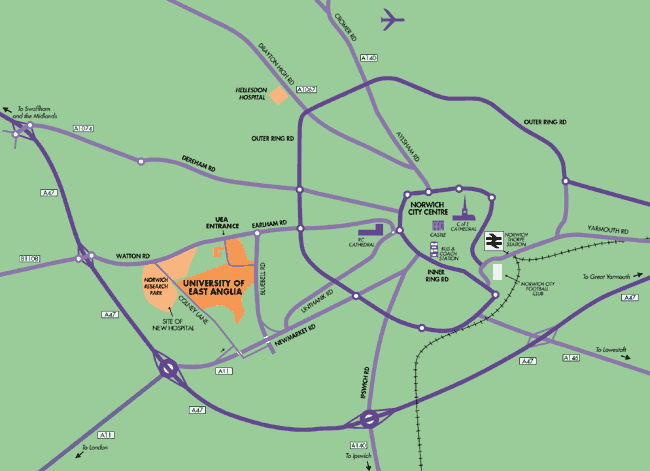 By train: If you arrive by train, you can either catch a taxi, which will cost approximately £4.00, or take the 25 bus which stops right outside the station. This will cost £1.40 for an adult single to UEA.
By coach: Coach services to Norwich run from all major cities, dropping you off right in the city centre. From here, you can catch the 25, 26 or 27 bus services to UEA, costing £1.40 for an adult single to UEA.
By air: If you are lucky enough to come by air, the best way to reach UEA will be by taxi.
By car: If you are travelling from the north or west of the country, the best route is the A14, which can be accessed from the M6. This is a much faster road than the A47. Just outside Cambridge, turn off the A14 onto the A11 (signposted Norwich). Follow the A11 all the way up to Norwich. You will come to a big roundabout where it intersects with the A47. Go straight over this roundabout, staying on the A11. The road will return to a single carriage way shortly after this roundabout. It will then start to have houses on it and look residential! At the first roundabout you come to, once the houses have started, turn left. (There is a sign post to UEA on this roundabout.) Follow this road, going past all the traffic lights. You will pass a couple of rows of shops, and then come to a roundabout. Turn left on this roundabout. This is Earlham road. follow this road along to the next roundabout (with a BP garage on it). Go straight over this roundabout, and UEA entrance, after about 500 metres, is on your left.
By car, from the A47 westbound: As you approach Norwich, the road becomes a dual carriageway. You will then pass a big Sainsburys on your left. Go past this exit, and take the next exit, which is the B1108, going straight over the slip road roundabout. This road is quite dark and narrow, so be careful! As a reference, you will come to a lit area, with signposts to the hospital and Norwich Research Park. Keep going straight past this, through about 3 sets of traffic lights. The road will go back to 1 lane, and go up a bit of a hill and round a corner. At the top of this incline, just after a set of pedestrian lights, is the UEA entrance on your right.
Getting into Norwich from UEA
Buses 25 26 and 27 go directly into Norwich city centre from Campus. They run frequently every day.
If you want to walk in to Norwich, just follow Earlham Road (on the Campus Map) to the right, all the way along, and it will take you to the city centre. It is about 3 miles. Cross over the footbridge at the end of Earlham Road, keep going straight, and you're in the city centre. To go by car, go along Earlham Road, and then follow the signs to the City Centre.