Getting there
The festival will be held at the Netherhall Upper School and Sixth Form Centre on Queen Edith's Way, in the South East of Cambridge, with some events in the Lower School across the road.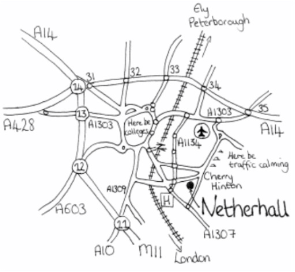 By car:
Leave the M11 at Junction 11, follow signs to Cambridge on the A1309. Go straight on for a mile and a half, and turn right at a set of traffic lights onto Long Road, signposted "Ring Road". Drive straight on for 2 miles, and Netherhall Upper School is on your right.
More detailed directions (with 300K of pictures) to the festival.
By train:
Once you're at Cambridge Station the Citi 1 or Citi 3 bus (towards Cherry Hinton) will get you to within easy walking distance of the school. Get off on Cherry Hinton Road, just past Cherry Hinton Hall. Follow the bus to the traffic lights, then Queen Edith's Way is the road to your right. You may want to check the train and bus websites for route changes, before you leave home!
By coach or bus:
Get to Drummer Street bus station, then catch the Citi 2 which goes past the school, or the Citi 1 or Citi 3 as above.
By plane:
There are regular trains and coaches from Stansted Airport.