Inter-Varsity Folk Dance Festival 1996
Edinburgh
Dates: 1st-3rd March, 1996
IVFDF '96 has been and gone. The Scottish Dance in Edinburgh pages describe what's happening now. But here's the last things we said just before the event. A retrospective is also available so you can see what really went on. This is based on the programme which was given to all participants.

Other IVFDF pages:
---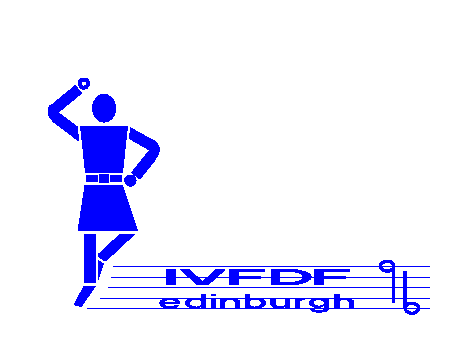 Hello, and welcome to the Web page of IVFDF 1996.
On this page:
---
Hot off the Press
What's new and hot in the IVFDF'96 plans...or at least lukewarm...
---
Introduction
Following on from the resounding success of IVFDF '95 in Exeter (24th to 26th February 1995) the Inter-Varsity Folk Dance Festival, or IVFDF ("IFFDIFF") to its friends, is coming to Edinburgh in 1996. It will be run by the Edinburgh University New Scotland Country Dance Society .

We welcome comments and suggestions, both about this page and for the festival itself.

There is plenty more information available about the festival.

Highlights planned at present include:

workshops planned.

The timetable of events is basically set now. We are currently working on fitting the workshops into the skeleton.
---
T-Shirts
All the T-shirts featured at IVFDF in Exeter have now been sold. However...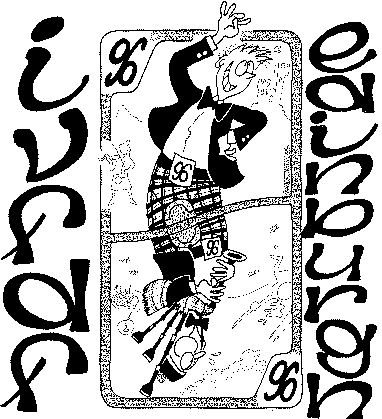 by Manuel Trucco
Due to popular demand, the design has been changed to something less abstract and more relevant. An initial run of 100 has been printed in blue on black or navy, black on red or white and white on green. Available now at £6.50 + P&P. For a special deal, order in advance to get 5 T-shirts for £30 + P&P. So get together with your friends and order a batch.
We will be doing another run of T-shirts before IVFDF, so if the colour you want isn't there, let us know now. The design is black and white, so can be black on white, blue on red, yellow on purple, turquoise on green, jaundiced yellow on shocking pink, ... You tell us what you want, and chances are you'll be able to get it. If you don't tell us, don't blame us if it's not there.
---
Fund-raising dance
To raise a bit of working capital, and also because it was a good excuse for a bop, we ran a [Scottish Country] dance in October. It was held in Cluny Church Hall, Edinburgh, with the band Alastair Wood. Despite disappointing numbers - only 90 turned out - it was a good night. The programme was interesting, the company was great, and a good time was had by all. And of course, with Alastair Wood's band playing, the music was superb. We even managed to make a slight profit, although there were some worrying moments early on.
---
HELP!!!
We've just been told that our arrangements for sleeping the masses have fallen through. We have 24-hour bookings on the halls, but may not sleep there. So if you happen to know of any large warehouse/church hall/barn/sports hall in or around Edinburgh which we could use to sleep 300-400 people, or can give us a contact of someone who may be able to help, we'd love to know. It may be that we'll only have sleeping space for 100/200/whatever, so if you are planning to come and can make other arrangements for sleeping - a friend you can doss down with, a guesthouse, on the coach, or whatever, please do.

Also, this will obviously put our costs up as we have to hire more halls, and maybe buses to transport people between the venue and the sleeping place.

Basically, if you have any ideas, please get in touch. We are doing all we can, but there is a slight chance this may mean we have to cancel. We hope it won't come to that. It didn't! - Ed.
---
This page is maintained by Ian Brockbank
ScottishDance@bigfoot.com
Edinburgh, Scotland I am a member of the HTML Writers Guild.

---

Last modified $Date: 13-11-98 14:24 $.
people have visited this page.