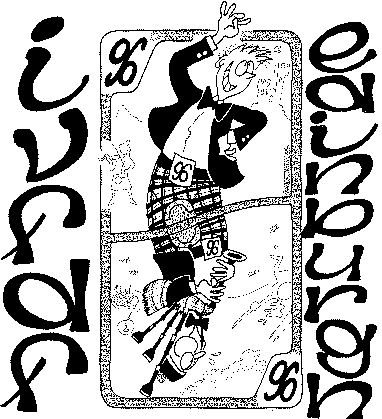 IVFDF '96 has been and gone. The Grand Chain Scottish Dance resource pages describe what's coming up now.

This page is a retrospective, based on the programme given everyone who came to IVFDF '96. Hopefully should give a feel for what went on, and it may be a guide for people running future events. From time to time I have included personal comments rendered like this.

In here you will find:

There are other pages related to IVFDF:
---
Introductory waffle
Hello, and welcome to IVFDF '96, which, as I hope you have already noticed, is taking place in Edinburgh, Scotland's beautiful Capital City. It is being hosted by members of the Edinburgh University New Scotland Country Dance Society, known universally (including throughout this programme) as New Scotland.
---
Practicalities
The Festival Office
This is in Teviot Reception from Saturday morning onwards. It will be manned by someone at most times, so if there's no-one there, come back again later.
This is where to come if you have any enquiries, problems, you want to sign up for a demonstration (see below) or find out when your team is on. It's also where you can buy T-shirts (until we run out), leave messages, get maps, hand in lost property, and generally deal with anything which isn't handled anywhere else. If you need to find committee members (see below) look here first.
Stewards
Stewards are the people in the delightful royal-blue-and-pink T-shirts. They are also here to have a good time, and have volunteered to help make things run more smoothly (indeed at all!). If you have any questions, ask a steward - if they don't know the answer, they ought to know who will.
The committee are the ones with the royal-blue-and-pink T-shirts and the haggard expressions. They should know the answer to most things, but may have forgotten due to premature senility brought on by two years of worry.
Badge entry to all events
Your badge is your ticket to all the IVFDF events, assuming there is space, so please wear it clearly to let the stewards know you are part of the throng. Popular events are likely to be packed, and some have limited numbers. If you can't get in to a workshop because it is full, you should have got there earlier. Please bear it with a good grace, and don't take it out on the stewards. It's not their fault, and there's nothing they can do.
Sleeping
This has to have been the biggest bug-bear of the event. The University has told us no-one may sleep in any of its halls, due to Fire Regulations, and we have not been able to shift them on this. This means that sleeping is not permitted in Roxburgh Place Hall, Teviot Union, McEwan Hall or the Chaplaincy Centre. In fact, even Teviot will be shut during the night, so you won't be able to.
We have managed to find accommodation in church halls around the city. However, it's going to be cosy. When you arrived you should have been assigned to a hall. Though we have done our best, some halls are some distance away. We have tried to keep groups together, and to put people without transport in the nearer halls. Please help us by sleeping in the hall to which you have been assigned. IT'S NOT OUR FAULT AND WE HAVE DONE THE BEST WE CAN. Anyone complaining will be fed to the Rugby fans on Saturday. Note that, as these are church halls, there is no smoking allowed and no alcohol may be consumed on the premises. We're sorry.
Late night dancing is in the lower hall in Epworth Halls (where the Dancers' Dance is being held). Please respect other people wanting to sleep in other halls and rooms. Thank you.
Baggage
The Park Room in Teviot will be the baggage store on Saturday and Sunday. Any items left are left at the owner's risk; however it will be locked at all times other than the specified opening times. It will be open as follows:
| Saturday | Sunday |
| --- | --- |
| 7:30am - 9:00am | 8:30am - 9:30am |
| 1:15pm - 2:15pm | 12:30pm onwards |
| 6:00pm - 7:00pm | |
| 11:30pm - 12:30am | |
Food
There are lots of eating places near the University area, or another good place to try is on the streets between George Street and Queen Street, but that is a good 20 minutes walk away. If you want to stay near on the premises, we have made arrangements with the Union caterers as follows:
The Pleasance Bar is open for food on Friday night from 5:00pm-7:30pm. However, they are having a function from 6:00, so if you can eat before then they would appreciate it.
On Saturday and Sunday, Teviot Cafeteria will be open at the following times:
| | |
| --- | --- |
| Saturday | Sunday |
| 7:45am - 8:45am | 8:15am - 9:15am |
| 1:00pm - 2:30pm | 1:00pm - 2:30pm |
| 6:00pm - 8:00pm | |
Showers
There are showers in the basement of Teviot Union, and also in the Sports Centre just downhill from the Pleasance. Again, your badge gets you into the Sports Hall to use the showers. Remember to wear it visibly. Since the showers in both places are limited, please try to stagger your use of them - remember they are there all the time, not just when the dances finish.
Reps' meeting
The Reps' meeting is from 11am to 12:15 on Sunday, in the Dining Room. Each university society may have at most two voting representatives. This is your chance to affect the future of IVFDF. In particular, we will be deciding who will be lucky enough to run IVFDF in 1998 after Cambridge next year. It is also your chance to ensure you get told about IVFDF next year. We don't want to get stuck here all day, so please be prompt.
IVFDF '98 will be in Sheffield.
Demonstrations
Starting at 2 o'clock on Saturday afternoon, these are performances from many of the groups attending IVFDF, with some dances for the audience in between.
If you are performing, please sign up for a practice session as soon as you can. A programme for the afternoon will be made up, and should be displayed at reception by Saturday lunchtime. Please check when you are on, and make sure your group is ready in good time. Remember - heads up and SMILE!
Morris Tours
These will be leaving after the second set of workshops on Saturday, to allow you time to actually get to some workshops this year, and we suggest you aim to return in time for the final set of workshops at 4:45. Meet in the Reception area of Teviot at quarter to twelve to sort out how you will be grouped and which group will be going where. We anticipate having 4 or 5 groups. The venues are a maximum of ten minutes easy stroll from Teviot, in the Grassmarket and along the Royal Mile, and groups will rotate as usual. You will be collecting for Shelter (that's what we've told the police), and we will have collecting cans for you.
Sandra is in charge of the organisation for this. Please let her know you intend to go on a tour when you arrive and talk to her so she can liase between the various groups and do as much preparation in advance as possible, thus allowing you to get out there quicker. None of us have much experience with Morris Tours, so please bear with us and be kind to her.
One final thing - remember the Calcutta Cup rugby match (England v Scotland) will be on from 3 o'clock, and feelings are likely to run high, particularly if England are winning. Be sensible. We don't want to have to collect you from the Infirmary or the Police Station.
Religious services
Details of local services will be available at the IVFDF office.
First Aid
St. Andrews Ambulance will be providing First Aid cover over the weekend, and several of our stewards are also trained first aiders. They should be able to help with any immediate problems. For anything more serious, Edinburgh Royal Infirmary is a couple of hundred yards down Lauriston Place (past McEwan Hall). There will be a collection for the St. Andrews Ambulance at each of the dances and the Survivors' Ceilidh. Please give generously.
Exams
As there are examinations looming, people will be trying to study in Teviot library. Please be sensitive to this and don't start a jam session just outside the door (for example).
No smoking
Edinburgh University has a No Smoking policy in all of its buildings. If you are going to smoke, please do so only in Teviot or Pleasance bars, or outside the buildings. Thank you.
T-shirts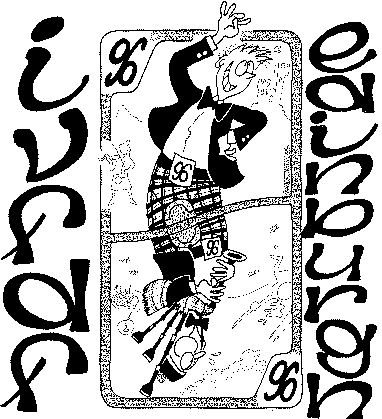 As featured on the front of this programme, and on your badge, this year's T-shirts have a cool design by Manuel Trucco. Available in blue on black or navy, white or green, and black on red or white, they are available from Reception, and a snip at £6.50. Numbers are limited, and many have been sold already, so get yours quick before they run out. If we do run out, we reserve the right to say we told you so. Oh yes, you must notice the Highlander attacking the sheep. It's most important.
We bought 190 T-shirts (plus 40 stewards T-shirts) because we were worried we might not sell them all (do you still have IVFDF '94 T-shirts kicking around, Rhod?). We needn't have worried. T-shirts sold out on the Friday night and we ended up doing an extra run of 50 and posting them on. Mind you, that turned into a nightmare - we were kept waiting 2 months for one order; then the printers didn't print some of the order, and got other bits wrong; and finally the Royal Mail managed to lose a pack of half a dozen, so we had to refund the relevant people's money. I was finally shot of it in August!
Thanks
In an event of this magnitude there are many people who have to be thanked, without whom it would not have been possible.
First we have the teachers. They are what give IVFDF its character. This year we have been fortunate enough to have 33 workshops representing most continents. Thank you to all of them.
You can't have dance without music, and we appreciate the musicians giving up their time to play for us. We have the bands, the workshop musicians, the musicians who played on Saturday afternoon, and of course all of the musicians who played for the performances. I believe some teachers brought musicians with them too. If I've missed anyone, sorry, and thank you as well. Thank you also to our two demonstration groups Ojczyzna (Polish), and our Broadswords team Alastair, Grant, Mark and William, with Manuel piping again. Err, actually Mark managed to double-book himself, and the other three weren't given enough information, so the Broadswords didn't happen. We had rather a lot on our minds at the time...
Many of the teachers and musicians would have been inaudible, were it not for the sterling work done by our very own Roadie, Dave, and his team of helpers. He has conjured up PA out of nowhere and generally made sure you can hear the people you need to hear.
I'm sure Ailsa would like to thank Bill for all the help and direction he gave her for the Friday night bar, out of his experience at running similar bars for the Dunedin Festival.
Which brings us on to Dunedin. They very generously gave us advertising space in their Festival programme last year. Thank you.
Thank you also to our other sponsors - to Celtic Craft Centre, to Mike and Marion Senior, to Manuel Trucco, David Ford and Peter Brown who all submitted T-shirt designs, and James Bruce who donated a T-shirt screen, and to the others who have asked to remain anonymous.
Many people worked behind the scenes to make the Union usable. A big thank you in particular to Mrs Leary, who bent over backwards in her efforts to help us.
Thanks to Sophi, whose wonderful eyelashes got us several of the night halls. We'd have been lost without you! And those eyelashes have been doing sterling service this year (1996-1997) for New Scotland - she's president.
Most of all, thanks are due to the IVFDF committee who have been preparing for this since it was dumped on us by Rhod in Manchester in 1994. Although all members of New Scotland, this has been an autonomous group formed solely for the purpose of running IVFDF. Thanks to Ailsa, Alison, Craig, Ian, Jean, Lesley and Sandra. Thanks also to past committee members who had to bow out due to other commitments - Morag and Peter.
And finally, one person has borne the brunt of organising this event. At the same time he has tried to hold down a degree, and will throw himself into mad revision for his finals as soon as IVFDF is finished. We wish Sandy, IVFDF committee chairman, the very best of luck, and hope he hasn't dropped too many marks as a result. Sandy - you're a petal. We didn't see him for the next few months - he spent the whole time in the library, even sleeping and eating there it seemed. But it paid off and he got a well-deserved 1st class honours. Congratulations Sandy!
Have a good time
Finally, and most importantly - enjoy yourselves. We're here to have a good time, and we hope you do too. Do be aware of other people, and if you get drunk, don't get obnoxious. If you make too much of a nuisance of yourself we do reserve the right to throw you out.
Printed by Highlander Music Ltd. Supplying CDs, tapes, books of dance music and traditionalish music from the Highlands of Scotland. Tel [+44] (0)1463 871422.
Programme text, design and layout by Ian Brockbank. Copyright © Ian Brockbank 1996.
---
Dances
Friday ceilidh - The Occasionals
The Occasionals began life when various well-known musicians on the Scottish folk and dance music scene joined forces to play for dances when their own individual commitments allowed - hence the name. Since then, the band has become more and more popular with the result that they are now highly frequent, but they've got stuck with the name! Regulars on radio and TV, the band has played throughout the UK at all sorts of events (17 000 dancing the Gay Gordons at The Final Party for Glasgow's City of Culture Year has certainly been one highlight), and they have recorded a CD which is already the top selling item in Scottish dance and ceilidh music for the last 10 years. The accompanying booklet of dance instructions has also proved a best-seller, and there are plans for a follow-up recording and booklet in 1996.
Tonight The Occasionals are: Freeland Barbour - Accordion, Gus Millar - Drums, Kevin Macleod - Electric and acoustic banjo/Mandolin/Bouzouki/Steel Guitar, and Karin Ingram - Dance Caller.
Scottish Country Dance - Iain MacPhail
This is what New Scotland excels at. This is what New Scotland does. If you've always avoided the Scottish Dance, but wondered what it's like - this is the one to try. If you've always avoided the Scottish Dance, and thought you knew why - come along anyway.
We have a mixed programme (like all the best programmes) with old dances such as La Tempête, new dances such as The Comely Lass and Back to the Fireside, RSCDS dances, Drewry dances, Cosh, Goldring, Boys' Brigade, and even Dunedin dances in 3 couple sets, 4 couple sets, 5 couple sets, square sets, triangular sets and round the room.
And if none of that makes any sense - come along and find out more! Dances in the first half are generally easier, with the second half getting more challenging, and there will be a supply of crib sheets (summary instruction sheets) available.
If you're still not persuaded, you've got to come to hear Iain MacPhail and his band. One of the most experienced performers on the circuit, Iain played for IVFDF when it came to Edinburgh in 1976, and has earned a reputation for a lively and exuberant style which has caused frowns among the … er, shall we say "older" members of the dancing population. If you decide to wear a hat, make sure it's tightly pinned down!
A glowing description which fell short of the actual event. Many people have said it was the best dance they had been top in years!
Dancers' Dance - Chris Dewhurst and Sue Stapledon
caller: Rhodri Davies
Probably less energetic than the Peeping Tom ceilidh, but it's not safe to assume that this dance will be without hornpipes and rants, and we won't be letting the Scottish dance monopolise all the good Scottish dances, either. Variety being the spice of life, this dance will cover a range of styles and difficulties; there will be some simple dances, some brain benders, some old favourites and some that I hope you will not have seen before. On the list at the moment: Modern British, American contras and squares (twirls encouraged), Playford, Pat Shaw and one or two Israeli. If you don't understand what any of that means, take the chance to find out. Whatever your level of experience you're welcome; we will be doing some difficult dances, but the intention is for you not to realise how difficult until you have finished them! All this to the uplifting accompaniment of Chris Dewhurst and Sue Stapledon.
English Ceilidh - Peeping Tom
caller: Martyn Harvey
Last seen at IVFDF in Sheffield in 1993, Peeping Tom bring their exciting brand of dance music to IVFDF again. They have played just about all the foremost festivals and seem headed to be England's foremost ceilidh band. If you're one of their large and growing following, you'll know just how good they are. If not, now is the time to find out.
Martyn Harvey can be found at many of the top festivals, ceilidh clubs and morris weekends providing nights of great spirit and character. Lively dances, clear explanations and bags of energy.
Concert - The Cast
The Cast had its origins in a chance meeting in Edinburgh's Fiddlers Arms, when Dave Francis and Mairi Campbell agreed to meet up and play a few tunes. This early collaboration led to the recording of some demos and a commitment to more long-term work as a duo. Dave and Mairi have been active on the folk club circuit in Scotland and have appeared at festivals in Scotland, England and Italy. Their first album "The Winnowing", produced by Jack Evans, was released on Culburnie Records in the summer of 1993, and warmly received by critics and audiences.
In 1994 the duo did concerts in Denmark, Spain, Ireland, North America, Scotland and England, and broadcast live on BBC Scotland's "Travelling Folk" programme (with Martin Carthy and Rock, Salt and Nails) as well as on Danish National Radio and Basque Radio. In the summer of 1994 Dave and Mairi collaborated with piper Hamish Moore and Cape Breton pianist Ryan Macneil on a show called "Welcome Home, Nova Scotia". The show dealt with the relationship between Scottish traditional music and dance and the traditions still practised in Cape Breton, Nova Scotia today. It toured the Scottish Highlands with Arts Council backing and great popular success, a reaction which was reproduced when the show was performed in Nova Scotia itself.
Survivors' Ceilidh - Scratch Band
The traditional end to the Festival, where everyone who can still stagger gathers together in one hall to bop till they drop … or have to leave to go home. Anyone is welcome to do anything (within reason and the bounds of the law) - dance, play, call, vegetate in a semi-comatose fragrant heap (we recommend this be done outside the hall), ...
The programme is what you make it. If you want to call a dance, talk to James Williams (the one who isn't Brian's brother), who will be leading the afternoon, and he will try to work you into the programme. If you want to join the band, feel free - the more, the merrier! This will be led by Brian Kingett (who doesn't have James as a brother). We ask that you go along to the Scratch Band Practice in the morning if you intend to join in with this, for Brian's sake if not your own, but if you can't make it - Och weel! - join in anyway.

---
A comment on Demonstrating from our Flamenco teacher. Sound familiar?
---
You may wonder at the spectacle of a dancer performing a serious dance with a fixed smile pasted on her face. This signifies only one thing - she has not idea.
---
Timetable
Saturday
Pleasance
Teviot
Highland Room
Ochil Room
Debating Hall
Wine Bar
Cafeteria
Dining Room
McEwan Hall
8:30-9:00
How to Warm Up
Catriona Shaw
9:00-10:15
Northumberland Clog
Shona Harper
Cakewalk
Anna McMillin
Scottish Ceilidh
Ian Brockbank
Tibetan
Chen Ming
Border Morris
Martyn Harvey
Dem Practices
10:30-11:45
Indian
Priya Sreekumar
Appalachian
Debbie Lees
Beginners Scottish
Caroline Bradshaw
Rapper Sword
Jeff Kirk
Cajun
Steve Simpson
Bagpipe Chanter
Manuel Trucco
12:00-1:15
Dances with a Difference
Richard Mason
BalkanHighland Fling
Anna McMillin
Calling for Dances
Rhodri Davies
Hammered Dulcimer
Pete Grassby
2:00-4:30
Dems and Ceilidh
Iain MacPhail
4:45-6:00
Irish Set
Gary Hayes
Flamenco
Sara Freire
Polish
Ojczyzna
Sailors Hornpipe
Martyn Harvey
Gaelic Language
Anja Gunderloch
Saturday Evening
Debating Hall
McEwan Hall
Epworth Hall
Chaplaincy Centre
6:30-7:30
Concert
The Cast
8:00-Midnight
English Ceilidh
Peeping Tom
Martyn Harvey
Scottish Dance
Iain MacPhail
Dancers' Dance
Chris Dewhurst and Sue Stapledon
Rhodri Davies
Midnight-Sun am.
Late night revelry in lower hall.
Sunday
Pleasance

Teviot

Highland Room
Ochil Room
Debating Hall
Wine Bar
Cafeteria
Dining Room
8:30-9:15
Yoga
Jeanette Paxton
9:30-10:45
Puirt a' Beul
Michela Rowan
Cape Breton Step
Mairi Campbell
Advanced Scottish
Bob Grant
Juggling
Gandolf
Playford
Rhodri Davies
Scratch Band Practice
Brian Kingett
11:00-12:15
Drumming and Percussion
Jim Walker
African
Sam Okoo
Hebridean Weaving Lilt
Cathy Harley
Israeli
Gary Hayes
Renaissance
Barbara Webb
Reps' Meeting
1:00-end
Survivors' Ceilidh
IVFDF Scratch Band
---
Workshops
To help you find your way around easily, these descriptions are arranged alphabetically by the first name of the teacher. Note that some descriptions of workshops by the same teacher have been run together. These are marked by (for example) Highland Fling + Cakewalk, meaning the two workshops "Highland Fling" and "Cakewalk".
Gaelic Language - Anja Gunderloch
You've seen the kilts, you've heard the pipes - now find out about the language and culture of the Highlands and Islands! Come along for an informal introduction to Scottish Gaelic and learn a few useful phrases and some interesting facts. Due to the nature of the workshop, there is a limit of 15 participants, so get in quick!
Highland Fling + Cakewalk - Anna McMillin
The 'Fling' is the most traditional of all Scottish Highland dances. It is said to have been inspired by the sight of a stag cavorting about the hillside. This is a solo dance originally performed on a shield and therefore danced on one spot.
The Cakewalk is a fun national character dance. Performed traditionally by a couple - a female in a full skirt and male in tail coat, top hat and carrying a cane. However, two females pose no problem. The steps tell the story of boy meeting girl, girl dismissing boy, girl and boy making up!
Anna started dancing aged 5 with the first step of the 'Fling'. Since then she has learnt somewhat more and performed and competed widely including in Japan and Australia. This is her fourth year teaching New Scotland.
Renaissance - Barbara Webb
Definitely not Playford, I have been assured. After all, Playford wasn't around in the 15th and 16th centuries. This does leave an extremely broad range of dances to choose from. However, I don't really know what will be in this workshop, because I forgot to ask Barbara. Perhaps you ought to go along to find out. - Ed.
Advanced Scottish Country - Bob Grant
The workshop will teach/improve the footwork necessary for Scottish country dancing and emphasise techniques of performance and phrasing, as well as, hopefully, introduce some new dances.
Bob teaches regularly for the Edinburgh Branch of the RSCDS at all levels from beginners to demonstration standard and has at various times taught the New Scotland advanced and demonstration classes. He appears regularly at workshops in Europe, Canada, USA and Australia.
Scratch Band Practice - Brian Kingett
Exactly what it says - a practice for the scratch band in the afternoon. Anyone is welcome to join in with the band at the Survivors' Ceilidh. We just ask that you come along to this practice so that Brian has some idea of what he is working with and to give you a chance to learn some of the tunes which will be played.
Hebridean Weaving Lilt - Cathy Harley
Your chance to learn one of Scotland's most unusual dances. Lost in Scotland, it was taken to America where it was later collected and restored to the Scottish repertoire. A special dance with pedigree! No fancy footwork or pointed toes, just a great foot-stomping time.
Please wear hard-soled shoes.
How to Warm Up - Catriona Shaw
Another day of dancing finished. You wake up the next morning with pains in your knees and aches in your legs, your right foot has gone on strike, and your back feels as though someone danced a Fling on it while you weren't looking. Perhaps you didn't warm up properly. Catriona is a trained Physiotherapist, and will be giving you pointers on how to prepare your body for the ordeal of dancing.
Beginners' Scottish Country - Caroline Bradshaw
Where better to have a shot at Scottish Country Dancing than in Edinburgh? An extremely social form of dance, you'll get to meet and mix with other people and have a good laugh (at me, if not at each other). Please bring, if you have them, soft shoes and an ability to count to eight. See you there.
Hello from Caroline.
Loads of people turned up to this and no-one complained so it must have been okay. Freeland Barbour provided wonderful music and everyone boogied on down - once we'd swept the broken glass from the floor.
Congrastulations if you're reading this, by the way - I can't believe anyone will. If you do get this far, please get in touch! - Caroline.Bradshaw@dial.pipex.com .
Tibetan - Chen Ming
Tibetan dance shows the vigour and strong character of the people from the Roof of the World. In the unrestrained and joyful dancing of the Tibetans, learners of this style of dance will find a dynamism scarcely found in any other Eastern dance, with the possible exception of Mongolian dance. The great tunes and enchanting rhythms of Tibetan music delightfully accompany the dance.
Appalachian - Debbie Lees
Do you know your chug from your shuffle, your Cowboy from your Indian? Appalachian dancing is rapidly expanding in this country and when you try it, you'll see why. Debbie dances with Newcastle group Tynestep, and her workshop will be beginner/intermediate level. Please bring taps or hard-soled shoes.
Juggling - Gandolf
Not much to do with dancing, but still a traditional part of IVFDF and great fun. Learn to juggle balls, progress to rings or defy death (or at least black eyes) with clubs. If you bring along a very good friend or your worst enemy, you could even be taught to pass clubs - and if that's too easy, it's time to start adding tricks.
For any level from complete beginner up. If you have your own equipment, bring it along. If not, there will be some at the workshop.
Irish Set - Gary Hayes
Taught by the acclaimed Irish dancers such as Connie Ryan (Mighty), I have travelled far and beyond for many a good craic with Dublin's finest battering out a rhythm. The sets to be danced will be chosen from plain Set, Lancers, Castle Set and Kenmare. Leather or PVC shoes are best for Irish Set dancing.
Israeli - Gary Hayes
Among Gary's wide repertoire of styles from Israeli to Bulgarian, Mexican to Russian, one of the most joyful is Israeli. The dances to be shown are fun and friendly with the essential movements characteristic of that nation's dance, to give a feel for the people and their expression. For the workshop, please wear jazz-type shoes or stocking feet. The dances are Simchat Neurim, Souvevuni and Ba Padesh.
Balkan - Graham Crowder
Mostly line and circle dancing, Balkan dance combines complex rhythms, intricate footwork and intriguing arm movements to form one extremely different whole. Be prepared to untie your legs again afterwards.
Scottish Ceilidh - Ian Brockbank
So you think you know how to ceilidh? Do you know your Gay Gordons? Have you ever done a Military Twostep in Doc Martens? Would you like to do an Eightsome Reel to the bagpipes? A vigorous workshop for all those who want to mix and meet and have a laugh. Dancing ability strictly optional. Soft shoes (eg trainers) recommended for the sake of the other dancers' toes.
Despite this being the first class I've ever taught, it was such a relief to only have one classful relying on me rather than some major part of the whole festival that it was a welcome oasis of calm. But then if I will be on the festival committee.
Yoga - Jeanette Paxton
The class will consist of three parts:
the art of relaxation.
introduction to the technique of deep breathing.
practice of Yoga Asanas or postures.
Rapper Sword - Jeff Kirk
Rapper sword is a vigorous performance dance which sprang up out of nowhere among the Tyneside colliery towns about 150 years ago. Although based on ancient ceremonial dances, it is purely done for recreation and entertainment, and as a way of getting people together long enough to get drinking money off them. It is traditionally done to the fiddle, but the Northumberland Pipes have become popular of late, and it is to these that the workshop will be done. It is done in groups of 5, and as there are only six sets of swords, there are a maximum of 30 active places at this workshop.
Jeff had to pull out because his team were more interested in the rugby. Luckily Eric Instone was able to run a class for us instead.
Drumming and Percussion - Jim Walker
Jim Walker, Canadian born, has lived in Scotland since 1984. He is the Drum Major of the Scottish Gas Pipe Band. He plays drums and percussion with Ceolbeg and Seelyhoo, as well as teaching at Jewel and Esk Valley college. Today's workshop will cover a variety of percussion instruments and techniques. Bring along any percussion instrument you may have.
I've since learned what a catch we made here. Jim Walker seems to be the drummer of choice for most bands in southern and central Scotland!
Cape Breton Step Dance - Mairi Campbell
Lost in Scotland, but not before it had been exported to the Cape Breton area of Nova Scotia, this form of step dance is enjoying a revival in Scotland at the moment, and one of its foremost proponents is Mairi Campbell. Singer, step dancer, fiddler - Mairi is a member of The Cast, The Occasionals , and is in great demand both in traditional and classical music circles. She has studied both fiddle and step dance in Cape Breton.
Bagpipe Chanter - Manuel Trucco
Discover the basics of highland bagpipe music (notes, fingering, gracing) in a ridiculously short time. Try the practice chanter, the little instrument pipers use to practice tunes quietly (no joke!). Find out about the various types of bagpipes in Britain and Europe. For complete newcomers to the evil bagpipe world. It will either put you off bagpipes forever or change your life beyond acoustic recognition.
Border Morris - Martyn Harvey
The wild and noisy dances of the Welsh borders appeal to the primeval spirit of dancers and spectators alike, thanks to rag jackets, blacked up faces and almost hypnotic stick choruses. Dancers - a long stick and a short stick will help. Musicians - very welcome to join Jenny and Ben.
Sailors Hornpipe - Martyn Harvey
The solo dance that suits any dancers and portrays a life at sea when tall ships ruled the waves and sailors needed to be nimble, strong and have exceptional balance. It's an opportunity to dance to your full potential, stretch your own boundaries!
Puirt a' Beul - Michela Rowan
After the Jacobite uprising in 1745/6, many parts of Highland culture were banned. No tartan could worn, no weapons were allowed to be carried (this included bagpipes, officially classed as weapons of war), and the local music was forbidden. Which made it difficult for dancing. To get round this, a highly rhythmic form of singing was developed, using Gaelic words and nonsense words, and people danced to this. This form of music is still used today, and is called Puirt a' Beul, literally "music of the mouth".
Polish - Ojczyzna
Ojczyzna is a song and dance ensemble formed more than 25 years ago by members of the Polish community in Edinburgh to preserve and promote the culture. The group welcomes non-Polish members. We enjoy giving performances of the material in our repertoire and working on new material to expand it.
Ojczyzna is pronounced "oychizzna", I'm told.
Hammered Dulcimer - Pete Grassby
A basic introduction to the Hammered Dulcimer including hands-on experience and the chance to learn one or two tunes (depending on time and ability). Some dulcimers available, but bring one if you can!
Indian - Priya Sreekumar
A sitar strums an arpeggio of lilting notes. Dressed only in a diaphonous silk veil, the girl undulates in time to the music, bangles on her wrists and ankles chiming accompaniment.
Of course, this may have nothing to do with the workshop. I honestly don't know, because I didn't manage to ask Priya what she intends to do. But it got your attention. - Ed.
What she was going to do, we'll never know - she never turned up! So the people who went along to this just improvised - various people taught dances and people who had instruments played. A fine time was had by all.
Calling for Dances - Rhodri Davies
For anyone who wants to start calling or teaching dances, or who wants to brush up on existing skills. BEGINNER CALLERS PARTICULARLY WELCOME. We'll be concentrating on the interaction between the caller and the band. I'm going to give some demonstrations of how not to do it, and Chris Dewhurst will be along to give a band's perspective on what the caller should do. We'll discuss some of the issues and there will be a chance for those who wish to have a go.
Playford - Rhodri Davies
"Dancing is for the most part attended with many amorous smiles, wanton compliments, unchaste kisses, … lust-provoking attire, ridiculous love pranks, all of which savour only of sensuality, of raging fleshly lusts."
Thus wrote William Pryne at the time when the Playford collection of dances were first published. Recently Playford has attracted a reputation as dowdy and plodding. Originally it was anything but, and it is time to bring back the good old days! We'll be looking at how to DANCE Playford, some of the basic moves as used in some classic dances, some modern interpretations, and maybe some new dances in the Playford style. Extra brownie points will be awarded to anyone turning up in suitably "lust-provoking attire"! (And personally, I don't include kilts in that category.)
Dances with a Difference - Richard Mason
Richard has been involved with Exeter University Folk Dance Society for twelve years, doing most of the calling and choreography for display, and he has helped organise two IVFDFs. The dances in this workshop have mainly been written by members of Exeter Folk Dance, and are slightly more complex than those usually done at ceilidhs. So for some Dances with a Difference, come along.
African - Sam Okoo
Dances from the Dark Continent. Drums pounding in the night. Swaying to the rhythmic beat round a heaped bonfire, re-enacting the day's hunt.
I'm making all this up. I haven't been able to get in touch with Sam to find out what he's really planning on doing. Go along and see just how far wrong I was. - Ed.
Flamenco - Sara Freire
It is extremely difficult to explain what does, or does not make a good Flamenco dancer. The techniques and movements in Flamenco are not symbolic in themselves, however familiarity with the dance techniques is necessary in the Flamenco dance. The expression "also dance Flamenco" signifies that the dancer has studied the campás, footwork and mimicry, and has learned a few Flamenco dance arrangements.
This workshop will teach some basic steps, campás and a good insight into the art of Flamenco.
Northumberland Clog - Shona Harper
This is a unique form of step dance which uses only knee and ankle movements to produce an amazing array of contrasting rhythms. The class will cover traditional clog hornpipes as well as choreographed and dynamic hard shoe stepping to jigs and reels (including music by Wolfstone and Battlefield). No partner necessary, but hard shoes definitely are!
Cajun - Steve Simpson & Suzanne Mazeau
The exciting, passionate music of the Cajun French people of South Louisiana is intended for dancing and partying. Boogie to the Cajun waltz and Cajun two-step, and to the Cajun jitterbug (like jive but much easier). Two of Scotland's most experienced Cajun dancers will teach these dances. Laissez les bon temps rouler! - Let the good times roll!

---
Craft stalls
The Craft Fair this year has a few regulars and quite a few new faces too. It can be found in the Middle Reading Room and in the Balcony Room in Teviot, and is open when Teviot is - ie Saturday and Sunday. These rooms are just off the main stairwell to the Debating Hall, and are well signed. Please drop by and have a browse in a quiet moment - they'd love to see you. And you never know - you might just see that thingummyjig you've been waiting for all your life.
Blackfriars Music
Blackfriars Music, Scotland's very first specialist folk music shop, will be displaying on their stall a very extensive range of cassettes, CDs and books, with an emphasis on dance. Or call into their shop at 49 Blackfriars Street in Edinburgh, open 9:30am to 5:30pm. Tel (0131) 557-3090 for that special order!
After all that, they never turned up, claiming illness. William Crawford of Highlander Music Ltd was at IVFDF, and so stepped into the breach. They supply CDs, tapes, and books of dance music and traditionalish music from the Highlands of Scotland, and have published no less than 8 CDs of Scottish Dance Music and 1 of Scottish Music in the last year (as of Jan 1997). Tel [+44] (0)1463 871422, Fax [+44} (0)1463 871433.
Dragonfly Designs
Unfortunately we were unable to get in touch with Kay to get a description of her stall - you'll just have to go along and see for yourselves.
Happy Fishes Clock Company
The Happy Fishes Clock Company will be stocking a range of Ceramic Tile clocks and colourful wall clocks. We will only be here on Sunday, so watch out for us.
Marcus Music
Marcus Music was originally established as a repair and renovation workshop for concertinas, but has diversified over the years to encompass the manufacture of early stringed instruments, and has also established itself as the country's foremost producer of rope tensioned drums and early percussion.
Pete Grassby - The Melodeon Repairer
Supplier and Repairer of musical instruments, mainly Melodeons, Accordions, Concertinas and Hammered Dulcimers, plus miscellaneous woodwind and stringed instruments. Overnight tuning service (where possible), quick string and reed replacements available.
Ryme Silvercraft
Ryme Silvercraft will be carrying a range of solid silver jewellery comprising of rings, earrings, bangles and pendants, in original and celtic designs. Roger specialises in animal earrings, with some items coordinating - that is rings with bangles and earrings with pendants.
---
Personal Comments about IVFDF '96
A couple of personal comments of how IVFDF '96 was for people who attended. If you want to add your opinion, please mail me at ScottishDance@bigfoot.com.
It struck me again this year: IVFDF wouldn't be so much fun without the people. Ok - the bands are exceptional, the accommodation (even in the face of last-minute crises) refreshingly rustic, and the student-union-priced beer does an outstanding job of blotting out the muscle pain - but what a bonus it is that you can always find someone to spin you until your ears flap, gallop you the full 100 metres in 8 bars, or leap into the breach when some oik of a 2nd man starts fancy-footing it with your partner. Amazingly they'll even do this before you've been formally introduced (although inevitably there are a few cliquey types who fail to catch on to this - or perhaps they're just too sexy for their rants). Can I therefore send a huge hug (sorry, getting a bit alt.cuddle here) to everyone who flung themselves into the flings in Edinburgh, and propose the motion that we have loads of people at IVFDF next year too!
- Aran Lunzer, Glasgow
What's it like to run an IVFDF? Well, Friday night is hell. 500 people clamouring for tickets, T-shirts, information, places to leave baggage, sleeping places (just for future information), T-shirts, tickets, lost companions, tickets, sleeping places ("I don't like where you put us"), places to set up craft stalls ("but we can't get in there until tomorrow"), T-shirts, ... After that things settle down a bit. Doing a workshop was a welcome break from the mad rush of organisation, despite being the first class I've ever taught. Manning the Festival Office was really quite slow on Saturday and Sunday - we just sat around and chatted and ate cake (generously baked for us by Caroline - what a petal!) and took names for T-shirts. The dems/ceilidh on Saturday afternoon seemed to go well, and of course the New Scotland dem was the best of the lot. Well, certainly the largest - we had 48 people on the floor at the end. The advantage of being the home team.

On Saturday evening I was on duty at the Scottish Country Dance and it was wonderful! It was just a dance! I know how to run dances; I've done plenty before. No-one was wanting to know where to sleep. No-one was needing sorting except with the simple things like "what's the next dance?", "where do I get a ticket?" and "where's the drink?" And of course the music was superb. Iain MacPhail was on top form (or should I say "bop" form), and I even got to do a couple of dances. Alison was bopping away on the platform, and Caroline had to physically throw her off to get a turn at MCing.

Then by Sunday we had past caring. We were having a party in the Festival Office. Someone asked me how many tickets we'd sold. I replied I hadn't the faintest idea, but that I had to report to the Rep's Meeting in half an hour, and that sent us all into fits of giggles.

For those interested, the numbers of tickets I think we sold (based in a large part on the amount of money taken and the number of tickets left after all souvenirs had been taken) were: 166 waged and 284 non-waged weekend tickets, plus 35 for teachers (who got in free), 100 for Friday evening only, 50 for Saturday during the day, 107 for the Saturday evening dances, and 20 for Sunday. So that's a total of 485 weekend tickets and 277 extras (some of whom will have overlapped).
- Ian Brockbank, IVFDF '96 committee member, Edinburgh.
---
Programme text, design and layout by Ian Brockbank. Copyright © Ian Brockbank 1996.
This page is maintained by Ian Brockbank
ScottishDance@bigfoot.com
Edinburgh, Scotland I am a member of the HTML Writers Guild.

---

Last modified $Date: 13-11-98 14:24 $
people have visited this page.