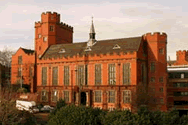 IVFDF is the country's longest continually running folk festival, aimed squarely at students (although anyone who feels they can keep up is welcome) and run by a different university each year. IVFDF is a non-stop weekend based (fairly broadly) around traditional forms of music and dance.
The festival will be the weekend starting Friday 29th Feb 2008 (it's a leap year!).
Online Ordering is now Closed
You can purchase tickets on the door for all events
Festival ticket desk is: The Octagon Building, Sheffield University Students Union, Western Bank, Sheffield, S10 2TG
See
Getting Here
for more information
Prices
Waged / Unwaged (Steward)

Weekend Ticket
£25 / £16 (£8)
Indoor Camping
(Free with Weekend Ticket ONLY)
Individual Workshop Ticket
£2.50 / £2
Friday Evening
£5 / £4
Saturday Afternoon Ceilidh
£3 / £2
Saturday
Concert and Dance
£12 / £8
Saturday,
Concert Only
£8 / £7
Saturday,
Evening Dances
£6 / £5
Sunday Afternoon Ceilidh
£3 / £2
T-shirt
£8
Latest News
Wed, 27th Feb
You can view the
Full Programme
online. Free copy with all weekend tickets when you arrive!
Tue, 26th Feb
Sun, 24th Feb
You will be able to buy tickets online until Thursday night (28th). If you are ordering by cheque / post we would recomend putting it in the post no later than Tuesday to ensure it reaches us before the festival - if possible please include an email address so we can email you your confirmation!

Tickets will be available on the door for all events - first come, first served.

Fri, 14th Dec
We have now added an extra sleeping venue - space is no longer limited!
Sun, 2nd Sep
Main events and pricing information have been updated.
Wed, 15th Apr
We have now booked Sheffield University Student Union (a change from our previous plans)
About Sheffield
Sheffield has always been a focus for traditional music and dance, and Sheffield University CeilidhSoc is one of the longest running in the country; in recent times Sheffield has only increased its reputation as a folk mecca and is starting to read like a who's who in the folk world, boasting such acts as Crucible, Trinculo, Hekety and James Raynard as well as new talent such as GloryStrokes and Tegwen Roberts. There is also a wealth of morris and rapper sides such as Triskele Sword, Sheffield City Morris, Mr Fox, Sheffield City Giants, Pecsaetan and Boggart's Breakfast.
Many of these acts have originated with Sheffield University CeilidhSoc and members still attend ceilidhs regularly or participate in scratch bands. There is at least one session every night of the week and ceilidhs are vibrant, fun and packed full of students, ex-students and wannabe students in a friendly welcoming atmosphere. Sheffield now has its own annual folk festival at Kelham island with a mixture of both local and national talent.