The 51st Inter-Varsity Folk Dance Festival
Cambridge 2001: A Dance Odyssey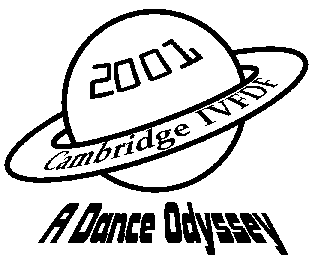 IVFDF 2001 is now over, although this site remains for general interest. See the IVFDF 2002 web site for details of the next IVFDF in St. Andrew's.
IVFDF is the country's longest continually running folk festival, and is the country's student festival, moving from university to university each year. It's a non-stop weekend of music and dance from the British Isles and beyond.
The next festival will be in Cambridge, from Friday 2nd - Sunday 4th March. Over the weekend expect a non-stop whirl of workshops, ceilidhs and other social dances amongst sessions, displays and the atmosphere that makes IVFDF goers come year after year.
Main events
Workshop details
Provisional timetable
Saturday night Scottish dance programme
Workshop notes
Lost Property (new)

---
We need stewards
We need stewards to help run the festival. In return for helping to run the festival you will get a free T-shirt and a significant reduction on the ticket price. And a warm fuzzy feeling inside that you did the right thing. Email soc-ivfdf2001-info@lists.cam.ac.uk for details.
---
What happens at an IVFDF?
Each year hundreds of students, ex-students, about-to-become students and never-want-to-be-students descend on some unsuspecting university for a weekend of dance mayhem.
On Friday evening we start with a big ceilidh to set us up for the weekend. While the locals retreat to their cosy beds (and the rich or wimpy to B&Bs) the hardy types spread their comfy sleeping bags out over the dance floor for a peaceful night's slumber, disturbed only by the mad Morris and ceilidh dancers in the next room.
Saturday morning is a frenzy of workshops. They cover dances for complete beginners, complicated dances, music for dances, calling for dances and somtimes nothing to do with dances at all. With about half a dozen running at a time you're bound to find something you like. If you really feel something is missing you can always ask to use a spare room and run the missing workshop yourself.
During Saturday late morning and early afternoon the university Morris sides invade the town and do their thing, aided and abetted by the local Morris dancers. Meanwhile the festival continues with the display ceilidh: a ceilidh with spots where any university club that wants to do a dance display (serious or otherwise) gets a chance to show off.
Saturday night features three big dances: the main ceilidh, a Scottish dance and (this year) a contra dance. If you have never done any dancing before you might prefer the ceilidh, but the workshops earlier in the day should teach you enough for you to enjoy the other dances if you want something with a bit more style. In true IVFDF tradition, expect the music and dance to continue long after the main bands have finished...
Sunday morning's programme starts with another round of workshops to take us to the afternoon's survivors' ceilidh. Musicians are encouraged to join the band, and there is a chance for you to call a dance as everyone burns off all the energy they have been saving for the final fling.
---
FAQ
I've never done any of this stuff before -- will I be able to cope?
Yes. Don't be put off by the people who appear to know everything -- they spend their whole lives doing this stuff and are clinically insane. Every dance in the ceilidhs is explained, and while not all the workshops are suitable for complete beginners, most are. And there are lots of friendly people to help you if you get confused.
I'm not a student -- can I come?
All are welcome (and a large number of the people there are non-students) but be warned that we make no attempt to cater for non-students. So there's no children's events, and if you can't cope with the pace at the ceilidhs you're getting too old :-).
How come the tickets are so cheap?
We know student budgets are tight, and we don't want to put people off on the grounds of price. Many people give their time for little or no money.
I-V-F-D-F?
No, we like pronouncing unpronounceable acronyms. Everyone calls it IV-diff.
---
Tickets
Ticket prices are exceptional value for money:
Unwaged
Waged
Weekend season ticket
£12.00
£18.00
Friday evening
Season ticket holders only
Saturday evening (all events)
£3.00
£6.00 (£5.00 in advance)
Individual workshops
£2.00
£3.00
Display ceilidh
£2.00
£3.00
Survivors' ceilidh
£2.00
£3.00
In addition, T-shirts can be bought at £6.00 each in advance (to be collected at the festival) or £6.50 at the festival. They are silver on black and feature the Dance Odyssey logo.
Indoor camping is free. Please send a cheque made payable to "IVFDF 2001" and a stamped addressed envelope to:
IVFDF 2001 (tickets)
92 Histon Road
Cambridge
CB4 3JP
We strongly advise buying tickets in advance, as numbers are limited. Please give sizes if ordering T-shirts. We regret that the programme is subject to change without notice.
---
Stuff you might need to know
We are holding the festival at Manor Community College, Arbury Road (map).
Buses 4, 5, 5A and 5B run frequently between the railway station and Arbury Road via St. Andrew's Street, City Centre Stop O (just outside the bus station, in front of Robert Sayle). A timetable is available in PDF format.
From the A14 (Northern bypass) take the Histon exit South onto the B1049. Turn left at the traffic lights onto King's Hedges Road, then right onto Arbury Road at the next traffic lights and keep going. The school is on the left ahout a mile from the A14. There is plenty of parking on site.
Food is available on site or from the many eating establishments in Cambridge itself. We expect showers to be available. Some events will require soft shoes.
If sleeping bags aren't your kind of thing then other accommodation can be sought by ringing Cambridge City Council tourist information on 01223 322640 or visiting their accommodation in Cambridge page.
---
Further information
To contact us, mail soc-ivfdf2001-info@lists.cam.ac.uk. There is a general IVFDF discussion list to which announcements will be made as and when information becomes available - to suscribe or unsubscribe, send mail to majordomo@tardis.ed.ac.uk with the line "subscribe ivfdf-news" or "unsubscribe ivfdf-news" as appropriate in the body of the message. To post a message, send to ivfdf-news@tardis.ed.ac.uk
Some general information regarding IVFDF organisational matters, including the constitution, is hosted here for the benefit of other IVFDF organising committees.
Other IVFDF websites:
The festival is being organised by a committee drawn from the various folk organisations in Cambridge University and the surrounding town. In particular, there are representatives from:
The Round (Cambridge University English Country Dance Club)
For links to other IVFDF sites and university folk societies please see the universities section of the The Round's Links pages.
IVFDF 2002 will be in St. Andrews, not Manchester as indicated on some flyers. They will have a website shortly.
---
A word from our sponsor
This year's festival has been sponsored by ARM. ARM is a leading intellectual property provider (NASDAQ:ARMHY). The company has a unique business model, enabling it to license its RISC processors, peripherals, and system-on-chip designs to leading international electronics companies. ARM's microprocessor cores are becoming a de facto standard in applications including portable communications, hand-held computing, digital consumer and embedded solutions. Visit their website www.arm.com for recruitment opportunities.
---
Page last updated 23rd February 2001
Webmaster: Andrew Swaine aswaine@iname.com
Site hosted on ban.joh.cam.ac.uk