Main Events
This is just a selection of what is taking place this weekend!
The full festival timetable is now available. Additionally, the full event programme can also be downloaded (free copies will be available to all season ticket holders and others can purchase a copy for £1 at the event).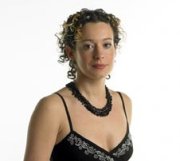 Friday Concert: Kate Rusby
FRIDAY 8pm-10pm: The Great Hall - Official website
Mercury Prize nominee, multi BBC Radio 2 Folk Award winner and labelled by the Guardian as 'a superstar of the British acoustic scene', Kate's concert is sure to be one of the highlights of the festival.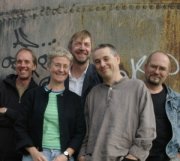 Friday Night Ceilidh
Band: Stömp
Caller: Gordon Potts
Stömp's high-energy style derive their musical influences from the traditions of England but also avidly from to the rest of the British Isles, across to Scandinavia and Europe in one direction and over the Atlantic to New England and Canada in the other. Appearing together with one of the most popular callers in the country, this promises to get IVFDF going in style!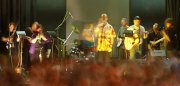 Saturday Night Ceilidh
Band: The Committee Band
Caller: Nick Walden
Hailing from the London area and back with us again, The Committee Band still hold their place as one of the best dance bands around. Too good to describe, you simply have to dance to them! Under the expert guidance of Nick Walden, The Committee Band will no doubt provide an unmissable main ceilidh on the Saturday evening.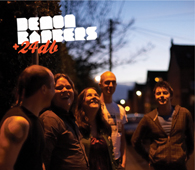 Saturday Concert: Demon Barber Roadshow
Official website - The Demon Barbers' Myspace
Always a hit at the summer festivals, the Demon Barbers combines youthful and charismatic performances with enthralling traditional dances by thier accompagning dance team. The Demon Barbers combine solid traditional acoustic instruments and songs with the added oomph of a superbly tight rhythm section, making a unique and captivating sound. Energetic fiddle and passionate, distinctive vocals. NOT TO BE MISSED!
STOP PRESS: Big congratulations to the Demon Barbers for receiving a highly respected BBC Radio 2 Folk Award (Best LIVE ACT) this week.
Saturday Concert #2: Jim Causley and Jackie Oates
Jim Causley Myspace - Jackie Oates Myspace
Completing our Saturday concert line-up, we are delighted to welcome two locally-based young traditional artists. Both Jackie and Jim have been individually nominated for BBC Folk Awards in their own right and are rising stars in the folk scene, having recorded with the likes of Show of Hands and Waterson:Carthy respectively. Catch their intimate gig at IVFDF before they become stadium folk artists!
STOP PRESS: Big congratulations to Jackie Oates for receiving 2 highly respected BBC Radio 2 Folk Awards (Best Traditional Track for The Lark in the Morning and the Horizon Newcomer Award) this week.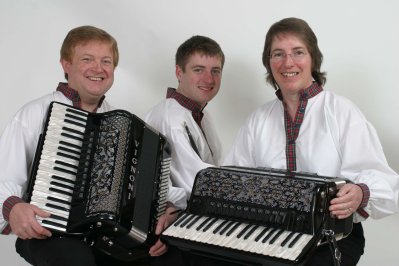 Scottish Ceilidh: Chris Dewhurst and his Scottish Dance Band
Leading proceedings in the Scottish ceilidh are Chris Dewhurst and his Scottish Dance Band, formed from a family from the Midlands. Their deserved reputation for highly "danceable" cites musical influences from Scotland, the Shetlands, Ireland and North America along with a few original compositions!
The band comprises Chris' wife Julie on accordion, as well as his son Nick on percussion, who have been playing regularly for Scottish Country Dancing since 2000, although they have all been involved in music and dance for many years beforehand. This lively band is a popular picking for club dances and ceilidhs "south of the border", and will be a keen choice for all those interested in the rare sight of an authentic Scottish ceilidh in the South West.
Scottish Dance Programme:
Flying Scotsman 4x32J Thurston
Reel of the 51st Division 8x32R Bk13
Cape Town Wedding 8x32S Bk 39
Midnight Oil 5x48J Bankhead 3
Summer Assembly 88R Bk35
Garry Strathspey 4x32S Cosh
Joie de Vivre 8x32J Bk39
Australian Ladies 8x32R Glasgow Ass
Culla Bay 4x32S Bk 41
Chasing the Wild Goose 5x32J Brown

Postie's Jig 4x32J Ormskirk 5
Deil Amang the Tailors 8x32R Bk14
The Gentleman 8x32S Bk35
Mrs Stewart's Jig 8x32J Bk35
Crossing the Line 6x32R Bankhead6
Indian River Strathspey 3x32S Senyk
Snake Pass 8x32J Life Begins at 40
Iona Cross 96S+96R Whetherley17
White Heather Jig 4x40J Cosh

Saturday Display Ceilidh
Band: Pigs Might Fly
Caller: Richard Mason
The display ceilidh is a chance for dance groups from all corners of the country to show off the dances they have been practicing. Display spots intermixed with general ceilidh dancing to Exeter based band Pigs Might Fly.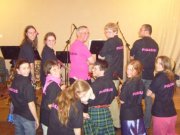 Survivors Ceilidh
Scratch Band, led by Pigasus
Callers: YOU! (Whoever wants to have a go is encouraged!)
Exeter University Folk Society's very own ceilidh band, along with anyone else who wants to take part, will wind down the festival with this traditional round of dances for those still with the energy for more.
Workshops
As always, IVFDF will be offering a vast array of workshop topics for beginners and experienced folkies alike. Informality and improvement guarenteed!! A full list of offerings is available on the workshop page.