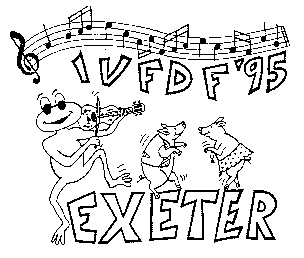 Was held at Exeter University, 24th - 26th February 1995
---
The liveliest and friendliest folk dance and music event of the year is happening soon. Forget Sidmouth's 40th anniversary, this will be the 45th consecutive lVFDF, making it the longest continuously running folk festival in the country;- not bad for an event held in a different venue, and organized by different people every year!

The reason for the continuing success of IVFDF is the policy of providing the best events at ridiculously low prices, and I am pleased to say it is a tradition which will be maintained this year at Exeter. With names like Gas Mark 5, Show of Hands, Committee Band, Wild Thyme, The Famous Five, Gordon Potts and Colin Hume we are sure of some great main events, and with people like Val Knight, Jackie Rawlinson, Alive & Kicking, Great Western Morris and Ross Allen leading the workshops, the quality is very evident.

Here is the working programme for this year to allow you to make the difficult decisions about which events to go to, and which ones to miss. As usual indoor camping is provided FREE of charge, and a wide range of food and drink will be available all day at student prices. So look out your sleeping bag, pack your dancing shoes and fill out the booking form for a great weekend.
---
Cost
Event Tickets

                      Waged       Unwaged
Weekend               £ 10.00     £ 8.00
Saturday (all day)    £ 7.00      £ 5.00
Fri (eve)             £ 3.50      £ 2.50
Sat (eve from 8pm)    £ 4.50      £ 3.00
Sun                   £ 3.00      £ 2.00

T-shirts


T-shirts              £ 5.00
Sweat Shirts          £ 9.00
Polo Shirts           £ 7.50

---
---
Friday 24th Feb

Time	Refectory		Great Hall
 8:00 -				CEILIDH with The	
12:00				Committee Band and Nick
				Walden

12:30 -  Late Night Dancing
	(if you can stand the
	pace)

---
Friday 24th Feb

Time	Refectory		Great Hall		L.E.H			J.C.R			Long Lounge	 M & D Room

 9:00 -	Appalachian:		Juggling:		60's Line Dancing:	Beginners Scottish:	Callers:	 Irish Music Session:
10:15	Alive & Kicking		Flipjacks		Ian Fuller		Vic & Sue Tyler		Martin Hodge	 Nick Scott

10:30 -	American Dance:		Display Rehearsals	Irish Set Dance:	Playford Dance:		Tap Dance:	 Voice Technique:
11:45	Colin Hume					Val & Simon Knight	Peter Boskett		Claire Stockwell Linda Bowers

12:00 -	Cajun Dance:		Display Rehearsals	French Dance:		Manx Dance:				 Fiddle Workshop:
 1:15	Richard Mason					Dave Faulkner		Eileen Barren				 Jackie Rawlinson

 1:45 -				BARN DANCE & DISPLAYS:
 4:45				The Notorious Knick
				Knack Bogey Band

 5:00 -	Dances of Lurve:	Irish Set Dance:	Advanced Scottish:	French Canadian:
 6:15	Ian Fuller		Val & Simon Knight	Vic & Sue Tyler		Ross Allen

 6:30 -															 CONCERT with
 8:30															 Show of Hands

 8:00 -	AMERICAN DANCE:		CEILIDH: Gas Mark 5 &	SCOTTISH DANCE:
12:00	Wild Thyme and Colin	Gordon Potts + 9:30pm	with Peter Russell Trio
	Hume + 10pm Alive &	Great Western Morris	+ 10pm : Great Western
	Kicking			+ 1O:3Opm Alive &	Morris
				Kicking

12:30 -	Late Night Dancing
	(if you are still
	staggering)

---
Friday 24th Feb

Time	Refectory		Great Hall		L.E.H			J.C.R			Long Lounge	 M & D Room

 9:30 -	Circle Dance:		Dances With A		Border Morris:		Manx Dance:		Clog:		 American Music Session:
10:45	Martin Hodge		Difference:		Great Western Morris	Eileen Barret		Claire Stockwell Alive & Kickin
				Richard Mason

11:15 -	Rock & Roll		Beginners Appalachian	Advanced Cotswold:	Playford:		French Music	 11:30 CONCERT with
12:30	Ian Fuller		Alive & Kicking		Great Western Morris	Peter Boskett		Session:	 The Famous Five
													Dave Faulkner 

 1:00-				SURVIVORS' CEILIDH:
 4:00				for all musicians and
				callers

Rhod Davies (rhod@cs.man.ac.uk)
---